Cabbage Key is one of the Barrier Islands to the west, towards the Gulf of Mexico.
The island was a long time for seafarers who robbed the sailboat crossing to New Orleans.
After the pirates, the island became home to several Indian tribes, and you can still see remains behind them. There are huge heaps of shells that the Indians threw in after harvesting their contents.
Today, Cabbage Key is an oasis along the coast that is reached by boat. Boat trips run from Pine Island daily.
The island's restaurant was named "Dollarbaren" since a guest many years ago attached a dollar bill on the wall as evidence of its appreciation. Now the roofs and walls are covered with banknotes and at the last bill, you came to 30,000 dollars.
The Dollar bar serves freshly prepared lunch both inside and out with "two days catch" on the menu. But the hamburgers are also very good.
After lunch you can take a walk around the island on a trail of signs telling animals and wildlife. Climbing in the viewing tower, the view is breathtaking. The promenade takes fifteen minutes. You can also meet on one of the island's best-known skull paddle "Skalman".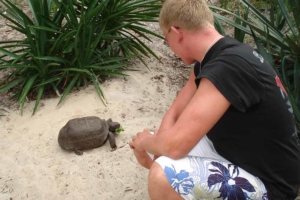 The restaurant also rents overnight cabins for those who want to experience the life of an island without traffic, TV and internet.
Pine Island – Florida's best kept secret
Pine Island is an island in the Gulf of Mexico, located on Florida's west coast, also known as "Florida's Best-kept Secret". The island is 35 km long and 3.2 km wide.
With only 20 min drive from Cape Coral and one hour's journey from Southwest Florida International Airport (RSW). Pine Island is a tucked-in picturesque island with a lot of charm surrounded by low-growing mangrove trees. There are no high-rise buildings on Pine Island Pine Island consists of three parts, Matlacha (Mat-la-shay), Central Pine Island, Bokeelia (Boechel -ya), Pineland and St. James City.
Matlacha resembles an "old Florida fishing village" which also has a growing collection of art galleries, souvenir and craft shops, restaurants and small clothing stores. With 30,000 visitors / year it is also a rich folklore.
Once hungry, you can sit down in one of the restaurants located by the water for a lunch or dinner at sunset. Pine Island is also the "Fishermen's Paradise" taking a fishing charter in a couple of hours up to a full day.
The bridge over the Matlacha Passet is known as "The Fishiest Bridge in the World" because fishermen stand there day and night with their fishing rods and wait for the big catch.
GASPARILLA ISLAND – BOCA GRANDE
Gasparilla Island is famous for its turn of the century, which is usually visited by the US president. But also for its true old-fashioned feel like the thoughts of the Caribbean. Here you come by car or boat.
Here, wild Iguanas run free. There are 10 iguanas on each inhabitant of Gasparilla. The beaches of Boca Grande have crystal clear waters and white beaches.
From Fort Myers Beach, the fast-paced boat, Key West Express, takes you to Key West in 3 hours.
Now, there is the opportunity to visit the historic small island, which is also the southernmost tip of the United States during a day or overnight in Key West.
Ernest Hemingway's museum is well worth a visit and why not look at "Sloppy Joe's", Hemingway's favorite bar where he spent many hours.
Click here to add your own text